Recently, Persecution Project received a special correspondence from Tutu Mustafa Turkash, the Secretary of Health in the embattled Nuba mountains of Sudan. In his letter, Mr. Turkash thanked us for our role in assisting the Nuba people by supplying life-saving pharmaceuticals to more than 200 facilities, three rural hospitals and three mobile clinics serving a growing population of over 2 million souls.
Important medicines treating malaria, diarrhea, typhoid, etc., have saved literally thousands of lives every year, especially during the rainy season, when the spread of disease is more rampant.
As nice as it was to receive the letter from Mr. Turkash, it should have been addressed to you, because you are responsible for the good news shared in the letter. Your "active compassion" is saving many lives and blessing our brothers and sisters in Christ in Sudan.
Because of your love for the persecuted, Persecution Project has consistently been the largest single provider of medicine to the Nuba since we began breaking through the Islamist's humanitarian blockade in 2013.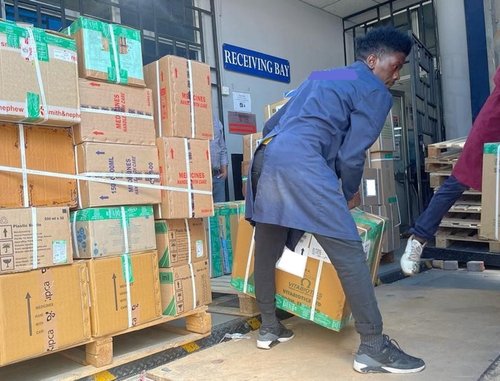 While Turkash's letter is encouraging, it does include some challenging news. The instability in the government-controlled areas of Sudan is causing more Sudanese to flee to the "free zones" like the Nuba, putting additional strain on limited resources— especially medical services.
Now more than ever, the Nuba need our help. We're committed to doing what it takes to serve the persecuted. We can make this commitment because we know from history that your love for our brothers and sisters in Sudan has remained steadfast.
In addition to medicine, Persecution Project is working towards the construction of a new radiology facility at the Gigaiba Referral Hospital. This, along with the completed maternity ward, will be a game-changer for public health in the region.
We ask for your prayers for this important project, as well as your continued generosity and networking to help us find members of Christ's church who desire to minister to the persecuted in Africa. So many of our strongest ministry partners were first introduced to us by other faithful friends like you!
One of the ways you can share about the needs of the persecuted church in the Nuba is to forward our website NubaHospital.com to friends and family. Thank you for all you have done already to serve the suffering in Sudan.