Recently, the PPF team was in Sudan's Nuba mountains again.
The rains had begun, and the whole country was turning green. Thin cows and goats were busy gorging themselves on abundant grass, and new life was seen everywhere. In every community we passed, whether in the valleys or on terraced hillsides, people were out plowing and planting. With the government-imposed humanitarian blockade now in its 8th year, it's critical that this year's local harvest be a big one. Famine conditions already prevail in many areas.
While visiting, our team delivered several more tons of medicine, emergency food, and other relief supplies, as well as Bibles and well repair parts. One of PPF's new Mercedes Unimog trucks was hard at work, crossing through muddy, swampy areas with relative ease to deliver more "active compassion."
Everywhere we stopped and spoke with locals, there seemed to be an unwavering resolve to "hold out" and weather the storm regardless of how long it rages.
"We will NEVER live under Shariah," one Christian community leader told us. "Don't worry about us. We won't give up. We've been fighting this battle since 1956."
Another leader we met (a Muslim) went further: "First, the Islamists told us we needed a united Sudan, so we should all speak Arabic. We complied. But that wasn't enough. Then, they told us that if we were not Muslims, we must convert. Otherwise, we'd get no jobs, receive no access to education, and be permanently marginalized. So, some of us did. But even that wasn't enough. We were then told we had to abandon our African identity and culture and embrace a distinctly 'Arabized' one. We finally said no. All of us. Christian and Muslim. Now, the government is trying to wipe us all out."
Taken in context of everything going on in this area of the world, this kind of resolve is remarkable.
Right now, things look really bad for the Nuba. The Islamist government in Khartoum continues to keep the area under a stranglehold to compel its surrender or abandonment by the Nuba people. South Sudan is struggling under hyper-inflation and instability due to its own internal conflicts and can provide little help.
The US and International Community has done an about-face and started siding with the Islamists in Sudan, pushing the Nuba "rebels" to accept the current Arab regime and lay down their arms. There is even a real danger of Sudan's government being removed from the "State Sponsors of Terror" list, which would give the Islamists $ billions more to spend on their internal wars against Christians and other "infidels" and "apostates."
And yet wherever our team went, markets were buzzing, churches were full, wedding celebrations were held, people were smiling, and if it wasn't for all the bombed out buildings and unexploded ordnance everywhere, you'd forget this place was a war zone.
"…the joy of the Lord is your strength" Neh. 8:10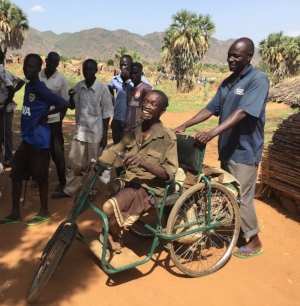 The Nuba people are standing firm— especially the Nuba church. The issue is very simple to them: They will not give up their culture and their faith. They will not be Islamized. They will not be ruled by Islamic fundamentalism. Their schools will continue to teach English, not Arabic. Their churches will continue to preach Jesus, and no other Way. Their communities will continue to stand to defend their ancient homeland. They will never, never, NEVER give up.
We felt very convicted. PPF's latest outreaches to the Nuba began in 2011. But the Nuba have been involved in defending themselves from extremism since 1956. Many on our team get to fly away back to first world conditions, while Nuba children must play soccer next to 500 pound bombs sticking out of the ground. Many of us involved in this work have felt discouraged at times, wondering whether things would ever change— but the Nuba church continues to press on day-after-day without losing hope.
"If our brothers and sisters can be so determined, why can't we?" This is the question we ask ourselves when we're tempted to be discouraged.
When PPF began working among the persecuted in Sudan, many in the organization saw it primarily as fulfilling an obligation. "Remember those who are in prison, as though in prison with them, and those who are mistreated, since you also are in the body." Heb. 13:3
But now, we see it as a privilege. It's a privilege to be chosen to stand in solidarity with the persecuted Church in Sudan's Nuba mountains. It's a privilege to be a part of their lives and community in some small way.
In the same way, it's a privilege to stand with all the ministry partners of PPF making this work and relationship possible with the Nuba people.
Our prayer is that we all remain standing firm together, as one body spanning many thousands of miles. Would you pray with us?