Jesus said to them, "I am the bread of life; whoever comes to Me shall not hunger, and whoever believes in Me shall never thirst." (John 6:35)
Hunger is one of those irresistible impulses that we all share. It only passes when we're satisfied with food or drink. But our physical bodies are not the only dimension of our being that hungers. Our spirit hungers as well. It needs food just as much as our bodies.
Jesus tells us that He is the only spiritual food that can fully satisfy. People can try to satisfy spiritual hunger with any number of substitutes. But none can completely fill the void. Like someone who is on the edge of starvation all the time, spiritual hunger becomes a way of life, and despair can quickly cross the physical and spiritual divide and harm flesh and blood (Prov. 17:22).
This is why since the founding of Persecution Project Foundation, spiritual hope has been just as much our focus as physical relief to our persecuted brothers and sisters in Christ.
PPF's Discipleship and Evangelism program is dedicated to the distribution of the "Bread of Life" to those suffering from physical and spiritual persecution. We know that physical aid can only satisfy for a moment. But the encouragement of the Gospel message of love, hope, and reconciliation can keep people going through even the worst of physical depravations.
Nearly all PPF physical relief provided to victims of war, genocide and religious persecution is distributed through the local church. Recipients see that the love of God towards them is such that He will bring help from thousands of miles away if necessary to provide His people with their "daily bread."
In addition to physical relief, PPF provides Bibles, audio Bibles, and other discipleship materials to equip the local church in its mission of community outreach and evangelism. In 2017 alone, 18,423 Bibles were distributed in Sudan's war-torn Nuba mountains, as well as 6,400 audio Bibles.
PPF also provides support to pastors and evangelists so they can devote most of their time to feeding their flock.
While there is life, we must reach out in "active compassion" to be a healing balm to those who need it. But as bad as war, privation, and persecution can be, it is temporary at best because our earthly bodies are temporary.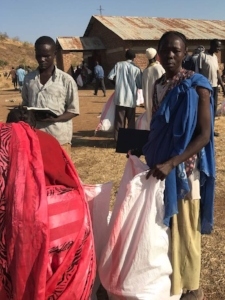 However, our souls are eternal, which is why distributing the "Bread of Life" is the greatest help any of us could give— or receive.
You can provide this help today by supporting our Discipleship and Evangelism Program.