by Dr. Frank Seekins
Editor's Note: Dr. Frank Seekins has been a friend to PPF for more than 15 years. He's traveled to Sudan with us and counseled pastors and evangelists on ministering to congregations impacted by trauma. Here, he shares with us the third of a multi-part series on how we can all experience victory over shame and trauma and find God's perfect rest.
IN MANY PARTS OF SUDAN, TRAUMA IS PART OF AN ENTIRE GENERATION'S DAILY LIFE.
MURDER, RAPE, AND BEATINGS ARE LIFE EXPERIENCES FOR MILLIONS OF PEOPLE.
OUR GOAL IS TO BRING GOD'S WHOLENESS, POWER AND FREEDOM.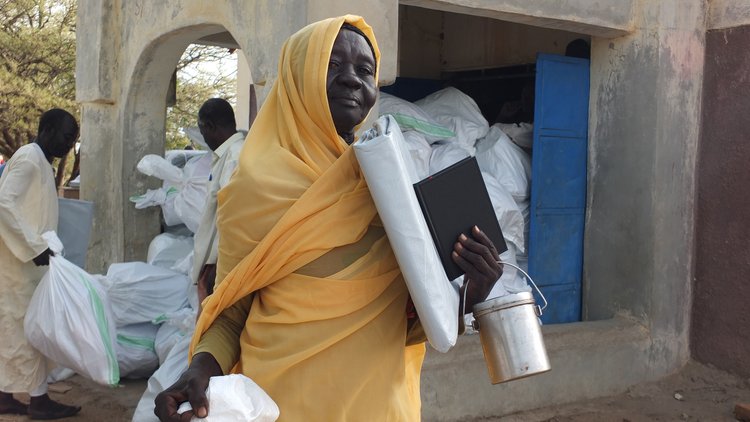 Freedom and healing for these horrific experiences is revealed in the 10 Realities (what many people call the 10 Commandments) given to Moses by God at Mount Sinai for a people who suffered much like the people of Sudan. These 10 Realities were given by God as a means to bring them, and us, rest, purpose, love and peace. They also direct us to three steps to help in the healing and restoration of trauma.
The first step is trusting God.
The prelude to the Ten Realities tells us that…
"I am the LORD your God, who brought you out of the land of Egypt, out of the house of bondage." Exodus 20:2
This reality exhorts us to remember the times God was there for us; When we were delivered from bondage, fear and shame. We are to talk about how God met us in our hurt or shame. And we are to ask others to share about how God helped them. How the hand of God brought them out of their bondage.
Another aspect of trusting God is to love Him back boldly. One of the most powerful ways to defeat trauma is to learn to love boldly and completely with all of our heart.
The next part of the 10 Realities is that…
"You shall have no other gods before Me." Exodus 20:3
This single-minded, whole-hearted love defeats fear ("perfect love casts out fear"— I John 4:18). This bold love helps us know and trust God as greater than the problems we face today.
This is the next Reality:
"You shall not take the name of the Lord your God in vain." Exodus 20:7
The Hebrew definition "to take in vain" in this context means to treat His Name as nothing. We are to see God as the greatest reality, both in power and love, in the universe.
When we see God as bigger than our trauma, then we can let go of our fear, drop our walls, and enter into His rest or restoration, which is the next and final part of trusting God as the answer to trauma.
Trauma keeps us in survival mode where our efforts are often self-protection, building walls or controlling others. Which brings us to the final step of the first rest.
To trust God and His love enough to cease from our own efforts. God's love and power allow us to trust, love and rest.
In the beginning of this series we looked at the Hebrew word "shuv" which means to return and restore. The Hebrew word "Sabbath" (rest) has the same meaning. God's rest is safety and restoration that comes from trust and love.
The Hebrew concept of restoration is best seen in the story of the Prodigal Son, when he remembered his loving Father and knew that he could return home where he was loved, safe and restored.
The Sabbath is more than just a day of "not doing." It is ceasing from our own work and entering into restoration, relationship and renewal. This starts with God, but includes the people in our lives.
The Hebrew word for the Sabbath day — "Shabbat" simply means rest.
So severe trauma is overcome when we remember God's past redemption; boldly love (no other); love and trust Him today; cease from our own efforts and enter His rest.
We help Nuba pastors understand this message, so they, in turn, can help those in their communities who are suffering from the effects of trauma.