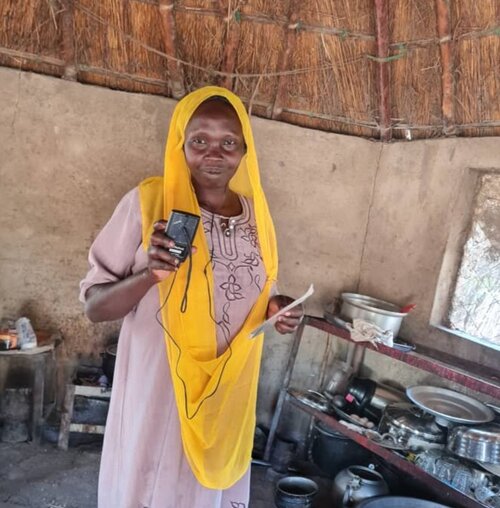 Persecution Project has been privileged to serve the persecuted church in Sudan for close to 25 years. Much of our outreach comes in the form of physical relief, such as safe water, relief and shelter projects, and medical ministry. But our Discipleship and Evangelism program does what physical relief cannot accomplish— direct, comfort, and encourage the soul.
We shared in the February newsletter our sponsored trauma healing classes which serve a population severely damaged by decades of war. Another way we seek to revive the soul is through a broad distribution of Bibles and audio Bibles.
The Word of God is described as a "light unto our paths." But it doesn't just show us "the Way," it also brings comfort to the spirit.
Audio Bibles are especially popular in the Nuba. Many languages are spoken in the region, and most people have not had access to educational opportunities. Literacy rates are low. But audio Bibles provide the comforting words of Scripture in multiple Nuba Languages. Moreover, audio Bibles can be heard by one person, or 20 at the same time!
Audio Bibles are also very effective at community evangelism efforts.
We recently received several testimonies from Pastor Matta Mubarak on the effectiveness of a PPF audio Bible distribution.
Pastor Matta shared with us the story of a Muslim man named Salh Alarib. Salh was most impressed about listening to what the Bible said concerning eternal life. He told Matta that he had never heard this message before.
Another Muslim listener, Hussein Baballha said that listening to the Gospel taught him that forgiveness for sins can only come from God Himself, and through Jesus Christ, His son, Who died on the Cross.
Nira Hassan, a Muslim lady, said she heard the message of Jesus claiming to be the "beginning and the end." Nira remarked at how this makes Jesus different than other prophets. Again, it's a message she had never heard before.
Pastor Matta sent his report to us with several photos. He wrote, "It is my pleasure to take this opportunity on behalf of [the] Nuba community to convey my gratitude and appreciation for what you are offering to [the] people during this critical time in the history of Sudan. May God continue to bless you and widen the ministry. We highly value what you are doing for this land."
Pastor Matta closed with a special plea:
"There are many people who are still asking about more Audio Bibles, because of the benefit and impact the teaching is having in their lives. So I would like to encourage [the] PPF Ministry to continue sending these tools to [the] Nuba Mountains. [It] is one of the most effective ways to reach unreached people groups."
Your generous support of Persecution Project's Discipleship and Evangelism Programs makes such testimonies possible. More importantly, behind these words are souls being nourished for eternal life.
Thank you for being a part of this important outreach!