We knew of Dr. Ahmed Zakariah long before we met him. His fame began to spread when he completed his residency with real American Hero Dr. Tom Catena at Mother of Mercy Hospital in the war-torn Nuba mountains of Sudan.
Dr. Ahmed saw how Mother of Mercy struggled to keep up with the unending stream of patients flowing through its doors. He knew what he had to do.
Dr. Ahmed travelled several hours from Mother of Mercy to an area choked with internally displaced refugees fleeing the destruction at the front lines. He found an old clinic and began seeing patients. First dozens. Then hundreds. Then more.
Today, Dr. Ahmed's little clinic treats an average of 3,000 patients per month.
It is simply not an adequate space for the growing needs of the Nuba community.
That's why Dr. Ahmed started building his hospital— with no money or outside support and in the middle of a war zone surrounded by government forces which want to kill or drive away every Nuba inhabitant!
Crazy? For sure.
But love can make you do "crazy" things. And Dr. Ahmed loves his people.
In the spring of 2015, the Islamist government forces of Sudan launched a major offensive against the Nuba. The PPF team was in the Nuba delivering medical equipment to Dr. Tom's hospital at the same time. The team also carried a gift for Dr. Ahmed— a quad bike he could use to move around and make house calls.
Our team was informed that Dr. Ahmed was at his clinic but had nearly been killed the day before in a bombing attack. We immediately drove the several hours to see Dr. Ahmed and found him treating victims of the bombing that had nearly killed him. He showed us the marks where several tiny shrapnel pieces entered the small of his back, and we thanked God he had been spared.
Dr. Ahmed was grateful for his quad bike and gave us a tour of his "hospital." At the time, only the Children's Ward was under construction. The community pitched in to provide bricks and manual labor. Someone even donated an old generator and welding machine. But there was no fuel to run the generator and no welding rods or rebar or anything else to complete the building.
Our team was moved by Dr. Ahmed's vision and seemingly unquenchable optimism — even during that very bleak time in 2015. This was a man who knew exactly what God wanted him to do with his life.
Today, a Children's Ward is in use, and Dr. Ahmed has begun construction on the Maternity Ward.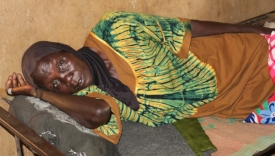 Dr. Ahmed's vision is very ambitious and it may seem a little crazy. But it's also inspiring. This man didn't wait for someone to come along and help. He saw a need and got active.
We want to help Dr. Ahmed complete his hospital. But building a hospital in the middle of a war-zone, surrounded by a humanitarian blockade, is no easy task. It is not cheap, either. But it is a matter of life and death for many thousands of Nuba residents.
To help Dr. Ahmed, PPF has launched a new campaign: NubaHospital.com
This campaign allows you to not only contribute towards the construction of Dr. Ahmed's hospital, but also to share the need with your own community and recruit them to join the effort with you.
Please visit NubaHospital.com today to learn more about how you can help a courageous man build a House of Healing for the persecuted!