by Rachel Starkey
"DAUGHTER, YOUR FAITH HAS HEALED YOU. GO IN PEACE AND BE FREED FROM YOUR SUFFERING." (MARK 5:34B)
Many years ago, my husband and I established a factory that manufactures clothing. It was our aim to sustainably help some vulnerable women gain employment where we live in Egypt.
During this time, I learned of another dire need. In East Africa, 80% of women lack access to sanitary pads (60M women!) and 43% are under 15 years old (25.8M). One in ten adolescent girls miss school during menses. And these shocking numbers go up in more remote, war-torn areas like Sudan's Nuba mountains.
I kept thinking, "What if this was me? What if this was my daughter? How would I manage the shame and lack of dignity if I didn't have access to reliable sanitary protection?"
And what about health and hygiene? Think of the millions of women living in areas without access to safe water. Infection rates are significantly higher, further contributing to missed educational and economic opportunities.
I decided to dedicate our left-over fabric to create EVA Dignity Kits, an affordable three-year solution for women living in the developing world.
Each Kit contains 2 pair of underwear, 2 waterproof shields, 6 reusable pads, a bucket, soap, and a drawstring bag.
When Persecution Project approached me about partnering together to serve women in the two Sudans, I was excited to support their work.
And when I saw Brad's picture of a girl holding up the piece of bark and string (her previous monthly solution for menses), and then the joy on her face as she now held a soft EVA Dignity Kit, it made all the prayer, sweat, and tears worth it. And I learned through the experience just how much God loves His daughters and provides for our every need.
PPF's Dignity Dive is one of the most important projects I've ever had the joy to support, and I invite you to join us in this wonderful movement.
Please visit www.DignityDrive.com today to learn more about how you can help clothe more of our sisters in dignity.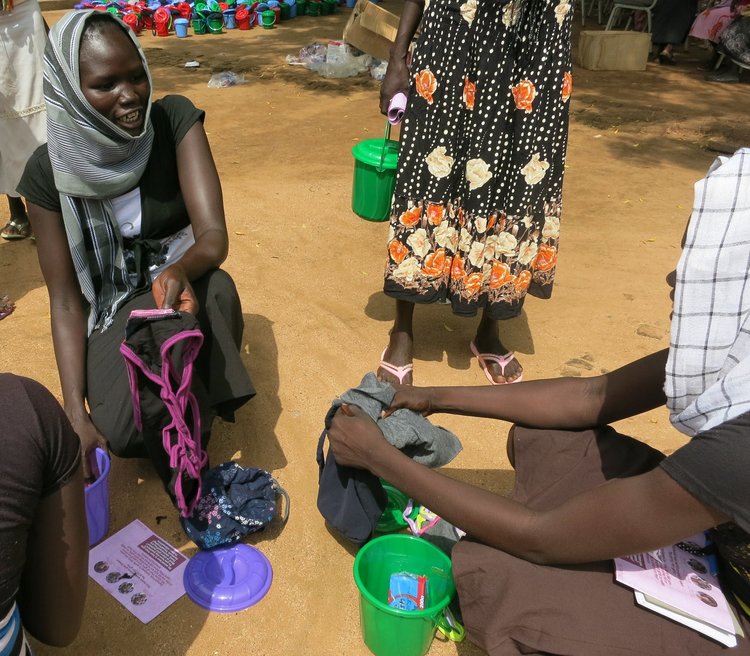 "SHE IS CLOTHED WITH STRENGTH AND DIGNITY; SHE CAN LAUGH AT THE DAYS TO COME." PROV. 31:25